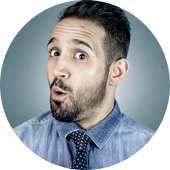 Hello, I'm Llanos.

Why Llanos when it's my last name?

It all started in 2003 when a close friend of mine who was also my first boss started calling me Llanos and it stuck ever since. Plus, Llanos sounds much cooler than Paul, right? 

I love animals, great food and zero shame crying for a great movie scene; I'm also a sucker for popcorn. I love training Jiu-Jitsu and being a New Yawka at a New York Yankees game. Did I forget to mention that I have a killer New Yawk accent? Ask me to say coffee (cawfee).

Professionally, I love collaborative environments and passionate people who despise mediocrity. I believe process makes strong products and talent makes them beautiful. I also strive to achieve and have an insatiable appetite for the impossible; perfection (not to worry, my therapist is working on that). 
Personally, it's important to improve on a daily basis by embracing humility, evoking empathy for others while welcoming opportunities for growth.
Lastly, I look forward to collaborating and designing a product that impacts millions of people - for the good!